Report
Brown to Green: The G20 transition to a low-carbon economy | 2017
G20 countries account for 75% of global greenhouse gas emissions and about 82% of global energy-related CO2 emissions (2014).1 If present emission trends were to continue, global temperatures would increase between 3 and 4°C.2 The consequences for the world would be dramatic.
Because they are the biggest contributors, the G20 governments have a special responsibility to act on climate change, using their economic strength to lead the transition to a low-carbon economy.
The necessity to protect the climate is not simply a burden, it coincides with other urgent needs and offers substantial benefits. The industrialised world's ageing energy system needs massive investments, and many people without – or with only limited access to energy – require more nonpolluting energy for a decent, healthier life. Moving from a "brown" economy based on fossil fuels to a sustainable "green" economy creates jobs and fosters innovation. Moving away from fossil fuels in energy production, transport and industry would dramatically reduce air pollution and increase public health for billions of people.
The G20 countries as a whole have made big efforts to reduce their impact on climate. They have started the transition from brown to green, but are in an early phase. Present efforts are neither sufficient in speed – nor in depth – to keep global warming to the limit set in the Paris Agreement: "holding the increase in the global average temperature to well below 2°C" and "to pursue efforts to limit the temperature increase to 1.5°C".
ABOUT THIS REPORT
The Brown to Green Report 2017 by Climate Transparency provides a comprehensive overview of the G20 countries, whether – and how well – they are doing on the journey to transition to a low-carbon economy. It assesses the main trends for the G20 in emissions, climate policy performance, finance, and decarbonisation. The report summarises and compares the findings presented in Climate Transparency's country profiles for each G20 country (incl. the EU). Findings are based on publicly available data by renowned institutions.
The country profiles and a technical note on data sources and methodology can be downloaded on http://www.climate-transparency.org/g20-climate-performance/g20report2017
---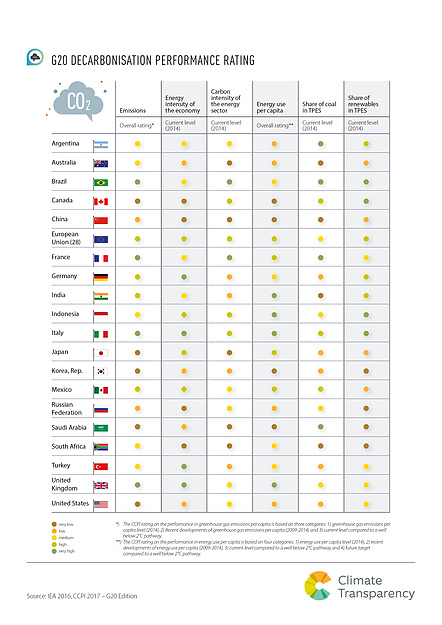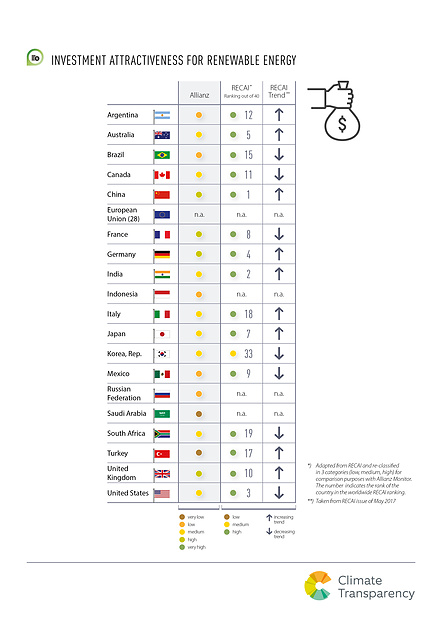 ---